Parks and Recreation
PARKS & RECREATION
Find a perfect spot and stay a while! Alpine is home to more than 30 acres of beautiful city parks that offer plenty of space to get out and enjoy our sunny days. Kids can run wild and free, dogs unleashed in their own space, brisk walks, slow meanders, invigorating runs, bird watching, ball games and so much more for people of any age to get out and PLAY!
Kokernot Park is the largest multi-use park. It is located on the cities northside and offers something for everyone, even your 4-legged friends!


Families with younger children and toddlers will be pleased to find so many spaces specifically designed for their kid's enjoyment and safety. The 1400 square foot shaded play area for toddlers and infants has small age-appropriate equipment and sensory toys. Not only are children protected from the sun but also from hard falls thanks to the entire play area being on rubber mats. It is also partially enclosed to keep your little ones from running too far. And not far from the play area is a set of 6 shaded swings that include 2 infant bucket seats and there is also an ADA wheelchair accessible swing set with paved access.
As your children's climbing abilities grow so does the equipment with 2 additional play areas with more advanced activities. All the playground equipment is located within viewing distance of each other so parents can keep a watchful eye on kids of all ages while they play or dig in the huge sandbox. There are also several benches that offer parents views of all the playing areas and tree-shaded picnic tables and grills for relaxing.
If you want to get in some steps and enjoy beautiful views of Alpine Kokernot Park has an extensive network of walking trails that will take you around the park, golf course, across the bridge, and back again! The area also contains fitness stations scattered along the trail. You are welcome to bring leashed dogs on the walking paths with you as there are dog waste bag stations throughout the park. There is also a dog park that provides your animals a place to run free.
Kokernot Park is also home to lots of facilities for team sports competitions and practices. There are soccer fields, baseball fields, tennis courts, and a sand volleyball court. Next to the baseball fields is Kokernot Field with its trademark "06" brand, built in 1947, this baseball stadium is home to Alpine's professional baseball team, the Cowboys. Learn more about the team's wonderful history here https://visitalpinetx.com/attractions/#alpine-cowboys-baseball.
There is also a skate park that offers a safe place to enjoy various jumps and ramps.
The swimming pool at Kokernot is the only public-use pool in Alpine and operates seasonally from roughly Memorial Day to Labor Day. Next to the pool and overlooking the play areas is a large pavilion. Both are available for use with a fee and reservations through contacting the City of Alpine City Hall at (432) 837-3301
If you are planning for a fun day at the park it's best to pack water, snacks, and maybe a picnic lunch since there are not any restaurants or convenience stores around the park. There are public restrooms available for use. Kokernot Parks open from dawn to dusk.
Baines Park is located next to Out Lady of Peace Catholic Church at the foot of "A" Mountain on the City's southside.


Located just a few blocks from Downtown you will find Baines Park on the windshield portion of the Alpine Historic Tour.
https://visitalpinetx.com/attractions/#historic-walking-tour
With play equipment for toddlers on up to adults this park offers a great place to stop and enjoy some playtime. There is a full-size basketball court with 8-foot hoops, open grassy areas, 5 covered picnic tables and a 6-seat shaded swing set with 2 infant bucket seats.
While there are not pubic restrooms at this park it is close to the downtown area where there are facilities inside the train depot.
Juan Medina Park is another of the 4 parks located on the southside of Alpine.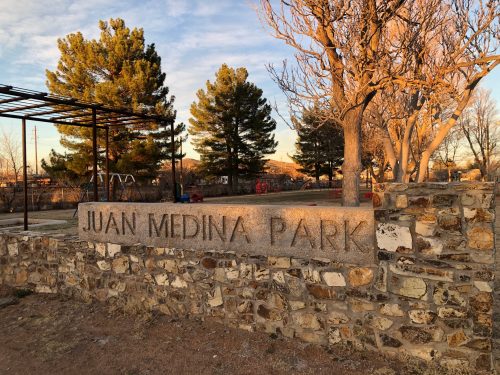 Medina Park is partially enclosed by a chain link fence since it is located along Alpine Creek. It is a great place to enjoy a short walking loop that encircles the entire park. The swing sets and play equipment is targeted for younger kids ages 0-5. In addition to the climbing and balancing equipment there are play stations to spark the imagination and engage kids senses. Your kids can even pretend to be the train engineer with the small stationary toy train built from barrels.


Medina Park has picnic tables and grills available for use. There are no restrooms at this park but public facilities are available at nearby Centennial Park.
Centennial Park is another park you will find on the windshield portion of the Alpine Historic Tour since it located next to the historic Centennial School.
This park is geared for competitive sports competitions and practices with a full-size basketball court and baseball field.
It offers a quiet area for walking and new restroom facilities.
Pueblo Nuevo is under construction!
The final park located on the City's southside and is in the process of undergoing a major renovation. Look for exciting things to come!!
Railroad Park is the final park to enjoy here in Alpine. It is an urban green space located right in the heart of Downtown Alpine.
Railroad Park is beautifully maintained by local volunteers and offers a wonderful place to take a break while sightseeing and shopping in vibrant Downtown Alpine! From the shaded benches you can enjoy several of the famous large murals that decorate many of the downtown buildings. https://visitalpinetx.com/attractions/#alpine-murals
The park is also home to 2 sculptures honoring Alpine's history with the railroad. There is even a caboose!
And you can get a drink for your animals too with the complimentary water and bowl.